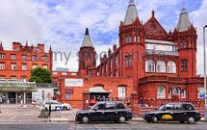 With over 240,000 patient visits every year, Birmingham Children's Hospital is home to the largest single paediatric intensive care unit (PICU) in the UK and cares for over 1,000 critically ill babies, children and young people every year.
Task
As the KIDS advice and transport service grew, it moved to a new location adjacent to the hospital and took the opportunity to redesign its communications infrastructure. KIDS runs a 24-hour operations centre and requires an efficient and reliable system to enhance logistical and clinical decision making for the KIDS team, bringing together the right doctors and nurses and other specialists in a timely manner.
Solution
OpenScape Xpert was installed in the main hub of the KIDS service and it is the first European healthcare deployment of its kind. The system which has been two years in production, has been designed to improve logistical and clinical decision making for the KIDS team. It has been the result of a successful collaborative partnership between clinical and IT staff.
David Marshall, Head of IT at Birmingham Children's Hospital, comments: "This solution will not only benefit Birmingham Children's Hospital but will allow the referring hospitals who ring the KIDS service to benefit from more efficient handling of emergency paediatric calls. We are incredibly well positioned for the future, and with Unify's next generation technologies Birmingham Children's Hospital is really setting the standard for other children's hospitals in the country to follow in terms of highly-responsive patient-care."
All incoming calls to KIDS are received via a 24/7 Freephone number and are triaged by the KIDS consultant (a paediatric intensivist). The Xpert system successfully brings together the right doctors, nurses and other specialists for the 1600 acute referrals which are received each year. The system also facilitates timely dispatch of the transport team and allows efficient communication between the team, the KIDS Consultant and other specialists involved in the case. This is vital to improving the delivery of remote expertise and timely solutions to critically ill babies, children and young people across the West Midlands.
Benefits
The Xpert system has been in service since February 2014 and the staff are starting to notice the benefits of improved call management for paediatric intensive care advice and transport. The system allows more callers within a single conference than was previously possible and multiple cases can be handled simultaneously. By improving referral call management and conference call efficiency, KIDS is streamlining the decision making process and transport coordination for critically ill babies, children and young people across the region.
Phil Wilson, KIDS Lead Nurse at Birmingham Children's Hospital, says: "KIDS is delighted to have had the opportunity to work with Unify to develop and implement the OpenScape Xpert platform. The additional flexibility and utility of this system allows the clinical staff to be transferred between calls, to leave and rejoin, and allows the KIDS operator to create and deconstruct conferences whilst still holding individual personnel on the console. This allows expert medical staff and other key personnel to be maneuvered into and out of whichever call they are needed, so that more than one case and complex discussions can take place simultaneously. The touchscreen console is easy to use, the call handling environment is clearly visualised facilitating logical and intuitive conference call management."