Task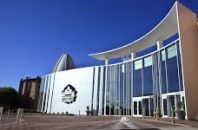 With a $27 million expansion project underway, the Pro Football Hall of Fame in Canton, Ohio, needed to redesign its communication infrastructure to showcase its facilities, deepen its connection to fans, equip its conference centre with state-of-the-art telecommunications technology, and give staff the latest collaborative tools.
As Dave Motts, the organisation's vice president of Marketing observed: "How can we be America's premier showcase for football and not have a showcase technology?" An average of 220,000 people visit the museum each year, and many more flood to adjacent Fawcett Stadium for the NFL's annual AFC-NFC Hall of Fame game.
Solution
To make its technology vision a reality, the Hall of Fame installed an open, unified, VoIP-based communications system and network infrastructure from Unify. The solution consisted of a range of OpenScape unified communication and collaboration solutions, which replaced an inefficient PBX-based phone system and a collection of low-end Wi-Fi routers. OpenScape relies on SIP (session-initiation protocol) for controlling multimedia communications sessions, enabling seamless, efficient, multimedia collaboration on any device.
Benefits
The Hall of Fame saw significant performance gains over its earlier piecemeal communications platform. The new Unified Communications solution from Unify platform enabled the organisation to:
Work more efficiently with new collaboration tools, BYOD, and a highly scalable voice network
Drive business by upgrading its conference facility to world class levels
Connect to fans with easy Wi-Fi and videoconferencing services
Lower costs with easy administration of a unified voice-and-data platform